So my foray into digital scrapbooking, a.k.a. digi-scrappin', is going well. I'm trying to do most of the NSD challenges at Stuff to Scrap and already did 2 layouts today! I'll be posting those in a bit, but I wanted to post about the best thing I've discovered - Templates!

These are awesome for getting stuff done & not having to come up with your own design. Some people give them away for free and some are available for purchase. Like the saying goes, "you get what you pay for". Now don't get me wrong, the free ones are great and sometimes they are even superb, but for consistent quality purchased ones are the way to go. Don't worry, they are affordable.

I've just found out about a new set of templates designed by Nibbles Skribbles (MandaK). Her templates are some of the best out there. Check it out: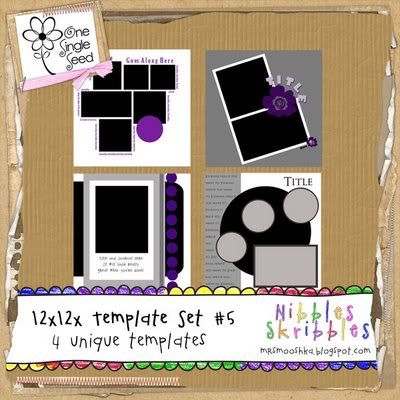 Psst: I wanted to let you in on a little secret - there is a coupon included with the download for this set and rumor has it that Manda is going to be having a sale in her store for National Scrapbook Day. Combine the coupon with the sale and you will be able to get anything and everything in her store for half price, but only for a limited time - you won't want to miss this. So hurry over and pick up Template Set 5!